We are right around the corner from the most Slammin' party of the Summer, hence the timing for our most recent RSVLTS x WWE Collection drop, and as wrestlin' superfans around HQ (hope you tuned into our annual DTH Trivia showdown on RSVLTS Insiders, featuring special guest, Hornswoggle!), we're excited to watch all the SummerSlam action go down this Saturday.
So while we wait for this chapter to unfold, lets hop in the Delorean, gun it to 88mph, and take a stroll down memory lane for some of the most memorable SummerSlam moments from over the years!
10. Nikki Bella betrays Brie
It was a betrayal no one saw coming but it sure shook the wrestling world. Brie Bella faced of against Stephanie McMahon for this installment of SummerSlam. Both were accompanied to the ring by their respective partners and the bout looked to be going Brie's way. After HHH took the ref out of the equation Nikki stunned the wrestling world by hitting Brie with a brutal forearm smash. Stephanie would then do her best version of the Pedigree to seal the deal on the match. 
 9. Shane McMahon's Big Fall
Although on paper this may not have been the most appetizing match, we did leave with quite the "holy crap" moment. No one would expected Shane to take on Steve Blackman in a match, let alone a hardcore match. During his time with the WWE, Shane has never shied away from going toe-to-toe with some of the greats. Going into this match, I don't think any of us expected to witness what happened that evening. As the battle made its way up the ramp, Blackman unsheathed his patented Kendo stick and sent Shane heading for the hills (or should I say...TRON). Shane scaled the Titantron in hopes of evading Blackman, but the elusive Blackman was able to climb up and deliver several blows with the Kendo stick. The final blow was the one that made Shane drop 40 feet below, and riiiiiight into the history books.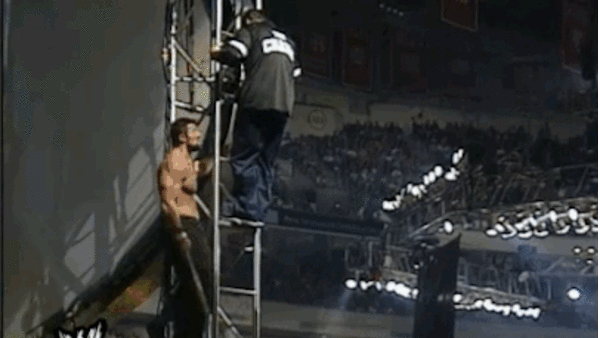 8. Randy Orton Becomes Youngest Champion in WWE History 
This match would set the table for what has become a hell of a career for Randy Orton. Being a legacy, Orton had a lot to prove coming into the WWE. Many would have thought this bout favored Chris Benoit, because it took place in his home country of Canada, so while the match was quick, it actually showcased how great both of these two were as technical wrestlers. The Crippler Crossface was not enough to incapacitate the young Orton as he was able to hit Benoit with an RKO out of nowhere and win by pinfall.
 7. The Undertaker chokeslams Edge through the ring
The year was 2008 and Edge was on top of the world. Edge seemed to have claimed almost every title possible and looked like he showed no signs of slowing down. He even went as far as to "marry" then Smackdown GM, Vickie Guerrero but after he betrayed her the honeymoon was over. To punish her previous beau she reinstated The Undertaker and ordered them to battle it out in a Hell in a Cell match. As you would expect, it was one for the ages and resulted in Edge being chokeslammed off the top of two ladders through the squared circle.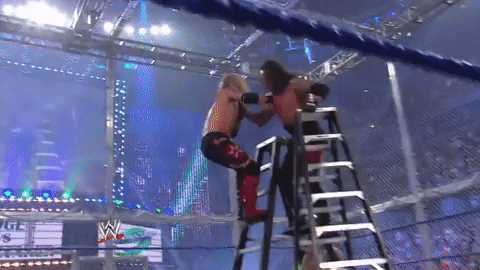 6. John Cena v Edge (2006)
This match really laid the blueprint for what was to come between these two. Once you have two legends sharing a ring you are destined to get a match that lives up to the hype. Luckily for us, this was as good as advertised. The feud these two cooked up leading to this match was awesome. The WWE title had changed hands between the two numerous times and was currently with Edge at the time of this match. The one stipulation for this match was if Edge was disqualified in any way he would need to forfeit his title. Lita did whatever she could to make sure Edge secured the win and was able to sneak a pair of brass knuckles into the ring. While the match was going on Lita ran interference by jumping on Edge's back to be promptly thrown off by Cena. While the ref was preoccupied checking on Lita, Edge delivered the final blow with the brass knuckles to sneakily retain the WWE title. If you think that moment was cool you should check out our newest John Cena "Can't See Me" Kunuflex shirt!
5.  Brock Defeats the Rock (2002)
This match was a turning point for the WWE. A young Brock Lesnar went toe to toe with the seasoned veteran the Rock for the chance to hoist one of the greatest prizes in sports entertainment history. Winning the King of the Ring was Brock's ticket to a title shot versus the Brahma Bull. The match was a bit short but as it progressed you could sense the torch was being passed in a way. What better career boost than defeating the most electrifying man in sports entertainment. Some would say Rock took a long walk down Know Your Role BLVD and ended up with a one-way ticket to Suplex City.
4. Shawn Michaels v. HHH - Street Fight
For years we watched as these two were at the helm of one of the best factions WWE has ever known. But like any relationship there is bound to be some trouble in paradise. Upon Michaels return after a 4 year sabbatical, HHH turned his back on his once teammate. Things came to head as these two battled in one of the most brutal street fights. HHH was on the receiving end of a plethora of Sweet Chin Music's with one ultimately leaving him leaking. Michael's went on to win the match by pinfall but took a sledgehammer to the back on his way out.
3. Shawn Michaels/Razor Ramon Ladder Match 
As if their first meeting was not enough we were blessed with a second installment of the classic showdown between these two legends. SummerSlam 1995 was the setting for the rematch and we were blessed with another gem. The athleticism displayed by both Razor and Shawn Michaels left the crowd in awe and gave us a moment that we will remember forever. Upon learning of Scott Hall's passing, we wanted to do something special in tribute for the man that was so beloved/hated in the theatrical ring over the years, so we asked nearly 20 renown designers to bring to life their favorite Scott Hall moments of all-time, aptly named "The Tribute", on a Kunuflex button-down. Read more about its creation in the full Field Notes article.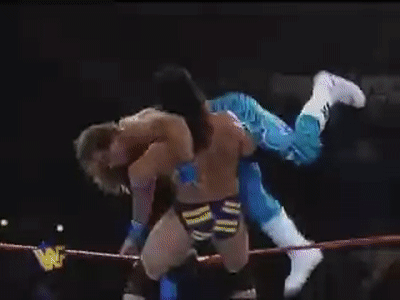 2. Mega Powers v Mega Bucks
This gem came to us back in 1988. This bout between two sets of heavy-hitters was officiated by none other than Jesse "The Body" Ventura and did not fail to deliver. This was arguably one of the biggest tag matches in the brand's history. The feud between these four bubbled over for quite some time and what resulted was this gem of a match in the world's most famous arena. This match was a masterclass on how to keep the audience engaged and showed just how the best in ring performances aren't always physical. At certain points it looked like the Mega Powers were down for the count but thanks to a crazy distraction from Miss Elizabeth and the Handshake of Doom, the Powers came out victorious. This match left such an indelible mark that we couldn't help but design a Mega Powers-inspired shirt in homage of these two larger than life individuals.
1.  TLC 2000
This next moment brings us to SummerSlam 2000 where Edge & Christian faced off against the Hardy Boyz and Dudley Boyz in the first Tables, Ladders and Chairs match the WWE universe would ever see. Anytime these tandems stepped into the ring we were spoiled with an absolute display of athleticism and watched as these superstars showed little regard for their own personal safety. Then GM, Mick Foley, announced we would be witness to the first ever TLC match. Leading up to this match each group made their love of unique in-ring weaponry evident. The Hardyz had their ladders, The Dudleyz had their tables and Edge & Christian handed out their fair share of ConChairTo's. What they did in the ring that evening was nothing short of amazing and helped lay the blueprint for what that match could be. In the end Edge and Christian retained their tag titles and we were left with of of the most memorable moments in SummerSlam history.